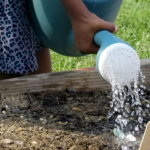 You're in an unfamiliar place. None of the words spoken around you make any sense at all. For you, this is a nightmare, or the start of a science fiction film. 
For five-year-old Olivia, this is her first day at a Tuscaloosa school. Trying to communicate with her teachers and classmates is frustrating. She has trouble making friends. She can't understand the lessons.
Olivia, like any of us would, becomes quickly overwhelmed, breaks down in the classroom, and feels helpless. 
Her teacher takes her somewhere special: The Garden. 
One of our staff, equipped with some basic Spanish, introduces Olivia to gardening. 
It immediately helps our tiny gardener relax. The soil helps ground her, and the repetition takes her mind off the stress of feeling lost in her own classroom. 
It isn't until she gets to watering, though, that Olivia really comes into her own. When she sees the droplets trickle from the watering can, her eyes light up. She wants to water everything, whether it's part of the garden or not. She keeps refilling her little watering can all by herself. 
By the end she is smiling and happily chatting to the plants and her teacher, anxiety forgotten. 
There's still a long road ahead, but the garden was the first step. And Olivia is on her way. 
Special moments like these are what you make possible.
You're the watering can. You're the soil. You're Olivia's sunshine.
[The student's details in this story are changed for privacy sake, but the story, and the impact of your support are 100% real home-grown goodness.]