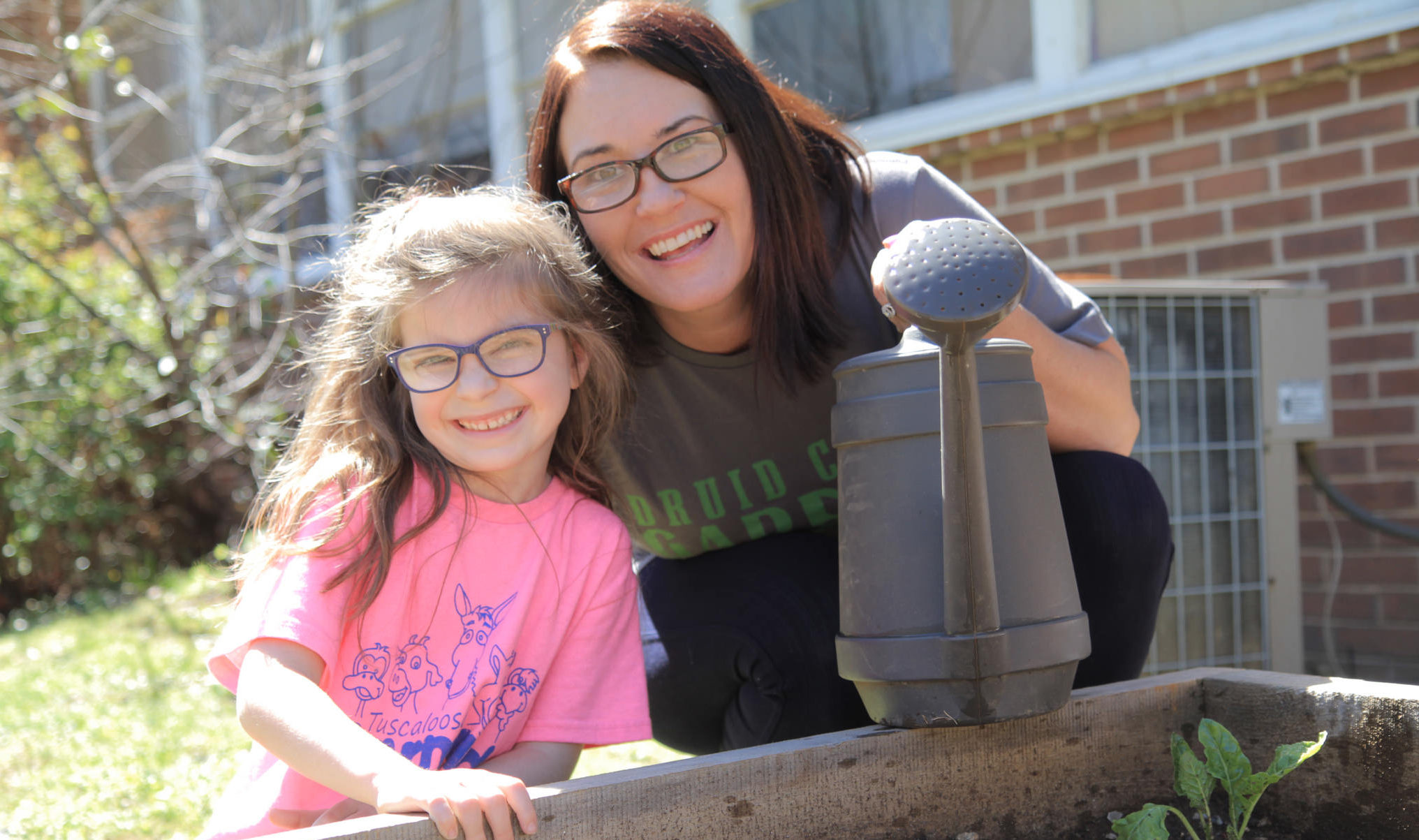 Schoolyard Roots currently works in 12 elementary schools across Tuscaloosa County, Alabama. Each year we expand our program to 2-3 new K-5 schools. Tuscaloosa-area schools, read below to find out how to get our program at your school.
Not in Tuscaloosa? We still want to support you!
Click here to see our curriculum and resources for helping you set up a teaching garden that works for your school.
Apply for the Gardens 2 Schools program
How it works
Schoolyard Roots partners with K-5 educators to bring learning to life in outdoor classrooms. We provide elementary schools with a teaching garden, garden materials, curriculum, and professional development for teachers. Lessons come directly from our standards-based Alabama School Gardens curriculum, and are hands-on and food-based.

In 2018, we updated our program model!
Originally, we worked with a transition partnership model that had us involved full-time in the first year of partnership and part-time in the second. During the third year and beyond, the schools independently used our award-winning curriculum and the garden beds we provided. This model allowed us to partner with two to three new schools per academic year at little additional programmatic cost.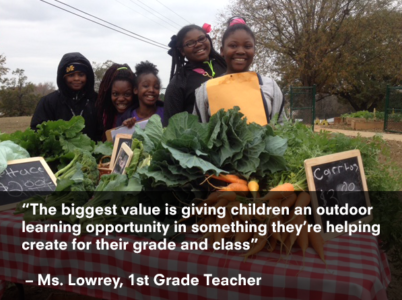 Unfortunately, we found that schools in the independent phase of partnership were unable to make full use of their gardens, and the beds went largely under-used and poorly-tended.
In response, we adjusted our program model and, as of fall 2018, are proud to say that we have a permanent full-time presence in each of our partner schools.
Our new sustainable support model allows us to ensure that all of our students continue to benefit from our gardens year after year.
Want to learn more?
Read our Frequently Asked Questions
Eligibility Requirements

In order to join the Gardens 2 Schools program, your school must meet the following requirements:

In the Tuscaloosa, Alabama area: Your school must be a K-5 public or private city or county school in Tuscaloosa County, Alabama. If you're outside of Tuscaloosa County, we still want to support your school garden. In fact, we created the Alabama School Garden Curriculum with you in mind! Check it out here.

Garden/outdoor classroom space:

  You must have a relatively flat outdoor space about 30' x 40' that is near an exit and gets at least 6 hours of sunlight.

Principal and school community who are committed to our program: Your principal must demonstrate enthusiasm and commitment to the program by submitting the application and supporting instruction that happens in the garden classroom. Your school must be prepared to sustain the cost of seeds and garden supplies after Year 2, which can be offset by produce sales.

Parents and teachers who are committed to our program: At each school in our Gardens 2 Schools program, we rely on a Garden Committee, who make it their mission to make the garden a success! This passionate group of parents and teachers meets monthly or bi-monthly to coordinate seed purchases and oversee garden maintenance.
How to Apply
We are now accepting program inquiries for the 2019–2020 school year.