Schoolyard Roots Fellowship Program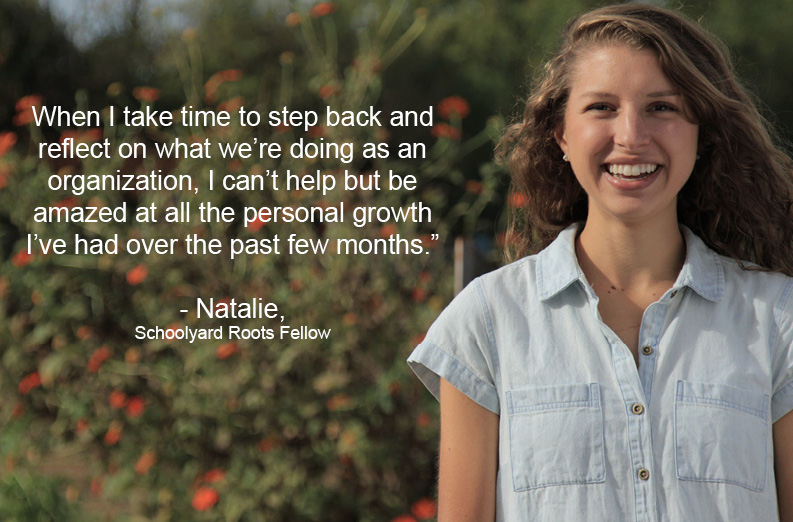 ---
| | |
| --- | --- |
| "I applied to many programs like Schoolyard Roots. However, Schoolyard Roots is way more advanced. Many organizations that teach people how to garden do not have their own curriculum or work as hard as this one to achieve its goals." -Sabrina, former Fellow | "At Schoolyard Roots, our community is our schools: the children, parents and teachers that we work with every day. We build capacity through teaching our teachers how to use the garden as an educational tool and spread garden knowledge and healthy habits to each incoming grade." -Sam, former Fellow |
---
Your Year Building Community Through Food:
So. You're passionate and socially conscious. You're looking to understand other people's needs and make the community a better place. Meanwhile, you're also on the hunt for your first post-college position.
As a Schoolyard Roots Fellow, you don't have to choose between making a difference and working in a professionally advantageous environment. You'll be actively serving the community through school gardens, while also growing and developing professionally as a person.
If it doesn't sound like a typical first job out of college, it's because it isn't.
| | |
| --- | --- |
| What to expect: | Where you'll work: |
In addition to the understanding gained from each position, you'll get hands-on experience identifying and filling some of the most critical needs that face our community today – all while working alongside a motivated, supportive team. Specifically, Fellows serve our communities in many areas, from teaching in elementary school gardens to developing programs and writing grants. See open positions below.

Gardens 2 Schools Fellows (Application open for Fellows that will begin July 2019): Support our partner schools and teaching staff in delivering our garden-based curriculum, build buy-in to the G2S program, and grow school gardens.

Development Fellow, (Application open for Fellows that will begin July 2019): Research and write grants that help fund everything we do. Work with the Development Team on annual appeals, donor communications, and our annual fundraising event, The Garden Party.

Public Relations and Marketing Fellow (FILLED): Manage all public relations, media, and website changes for Schoolyard Roots. Work with the Development Team, develop digital and print communications for donors, sponsors, and grantors.

Our Gardens 2 Schools program takes place in city and county schools across Tuscaloosa, Alabama. Depending on your position, you may be working in schools all day, attending meetings in the community, or spending time at our downtown office. It's our dream that one day, every school in Alabama will have a teaching garden. We need your help to make it happen!

What you'll learn:

We consciously design your year of service to ensure that you're not only making a real, measurable difference in our community, but also picking up valuable professional development skills.

We regularly invite expert guest speakers and leaders in our community to speak to our Fellows so that your on-the-ground training is supported with cutting-edge knowledge in your field.

At Schoolyard Roots, your input guides our work – you will always have a voice at the table, shaping how our programs, communications, and strategies are created.

Who you'll work with:

As part of our team, you'll be surrounded by colleagues who are highly motivated, passionate individuals ready to make a difference in our community. Schoolyard Roots counts on talented, intelligent & socially conscious recent college graduates to serve on our team as AmeriCorps Fellows.

Depending on the responsibilities of your particular position, you may also be interacting with partners ranging from local media representatives to elementary students to board members to school principals.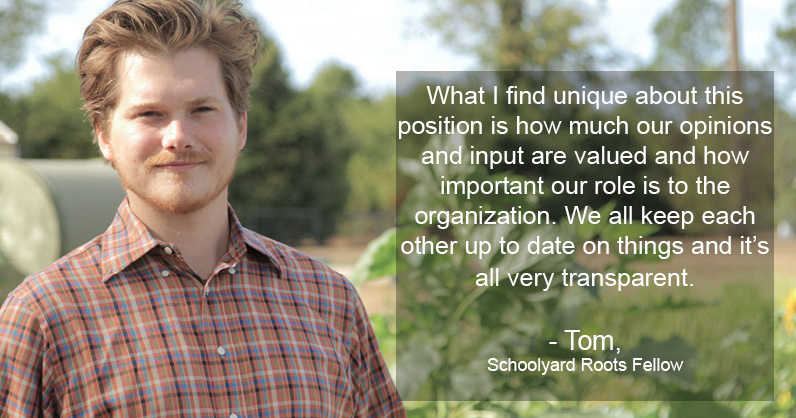 What we look for:
Believe in making our community a better place, through food

Be self-motivated and able to work independently

Be a creative thinker and flexible team player

Exhibit strong communication & leadership skills

Be passionate about working together with a team of like-minded individuals

Undergraduate Degree (required) or Master's Degree (that's a plus)

Background knowledge in gardening (preferred)

Able to oversee multiple projects concurrently and remain organized

Proven leadership skills
Ready to build community through food?
---
The Schoolyard Roots Fellowship is an AmeriCorps Program®. Benefits include the following: Monthly living stipend (varies based on state of service); $5,920 education award (received upon completion of term of service); Health insurance; Meals when providing service out of your home county; Mileage reimbursement when driving your personal car for service; All travel costs during overnight trips (hotel, rental car, meals); Ongoing professional development and training.
Eligibility Requirements: Documentation of status as a U.S. Citizen, U.S. National, or lawful permanent resident alien (this is an AmeriCorps eligibility requirement); Completion of a college degree (exceptions may be made on a case-by-case basis with prior approval); Criminal background check, including an FBI check, NSOPW check, and a statewide check in the member's state of residence at the time of application and state of service (if different than state of residence); At least 18 years of age.
Questions? Email our Executive Director, Stephanie Reinhart, at director@schoolyardroots.org.
---